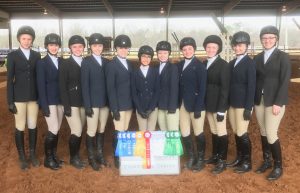 Montgomery, TX: Edgebrook Equestrian Center had both a middle and high school team representing our local community during the regular season of Interscholastic Equestrian Association ("IEA") shows. The middle school team won Reserve Champion at the January show in Haughton, Louisiana and the High School team finished the season strong with a Grand Champion this past weekend at Still Creek Ranch's Equestrian Center in Bryan, Texas. With all of the season's points totaled, more than half of Edgebrook's team of high school and middle school young ladies are advancing to the Regional Finals to be held at the Brazos Expo Center in College Station on March 3.
"This was our first year to have an IEA team and I couldn't be prouder of our girls. IEA is a very different format that most equestrians are accustomed to riding. Our barn has a really great group of lesson horses so our team members have the chance to ride on a variety of mounts; this really attributed to their success" said Sayer Townsend, Owner and Head Trainer at Edgebrook Equestrian Center.
Congratulations to the entire Edgebrook team for an excellent first season. Special commendations to Kaitlin Laner, Paige Reynolds, Emma Smith, Anne Sura, Grace Tilley, and Ashlynn Thomson for advancing to Regionals.
About Edgebrook Equestrian Center: Edgebrook is a family owned equestrian center located at 3501 Jackson Road in the Dobbin Community, just west of Montgomery. Edgebrook is a full service equestrian facility offering boarding, english and western riding lessons, and leasing. The facility is located on ~160 acres and has two large lighted arenas (one covered and one uncovered) and miles of beautiful trails. Edgebrook services clients in Montgomery, Magnolia, Houston, Tomball, Conroe, The Woodlands, Grimes County and College Station. In addition to showing at IEA and regional horse shows, Edgebrook offers monthly hunter/jumper schooling shows on site that are open to all area riders. Edgebrook is open daily for tours and encourages you to visit if you are interested in riding. You can find out more information about them online at www.EdgebrookEquestrian.com.
About IEA: The Interscholastic Equestrian Association is one of the fastest growing youth equestrian organizations in the United States with over 12,500 members in 42 states. IEA offers middle and high school aged students a unique competition format similar to the format utilized by college equestrians around the United States. Students are not required to own their own horses or tack; instead, the host team arranges for the horses and equipment. Riders do not know their mounts until shortly before their classes, allowing their scores to be based upon horsemanship and equitation. More information can be found at www.RideIEA.org.