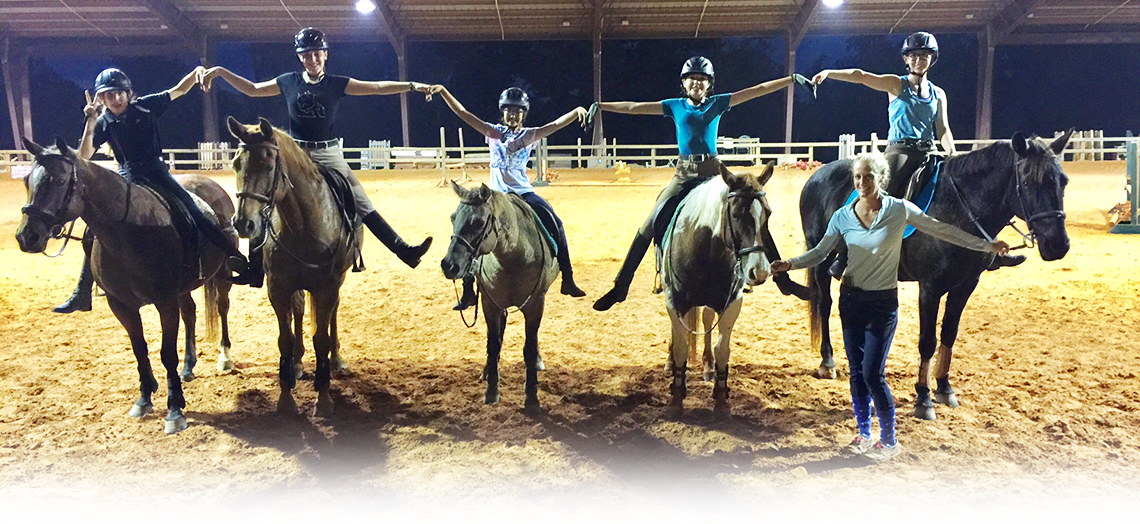 Edgebrook Equestrian Center offers private, semi- private, and group lessons for adults and children of all skill levels, beginner to advanced.* We believe in teaching with positive reinforcement to motivate learners to their highest potential. Learning is paced to match the student's individual needs.
New riders age 5 and up are always welcome! If your child has never ridden a horse before, we look forward to introducing them to the equestrian sport, helping them achieve their riding goals in a safe, professional, and fun environment. New riders always begin with a private lesson so that we can evaluate their riding skill and give them one-on-one attention. They will learn grooming, basic horse anatomy, correct terminology, and care for their tack. Riding skills and equine knowledge are built up from week to week assuring a well rounded foundation in riding. We have well mannered, safe lesson horses and all the necessary tack, helmets, and equipment to get them started!
Horseback Riding Lesson Rates:
Private Lessons: Available on an individual basis: $80 for 1 hour. *LIMITED AVAILABLITY* *All beginning riders must start with private lessons until the instructor deems a group lesson appropriate.
Semi-Private Lessons: (2 people) $65 per person for 1 hour.
Group Lessons: (3 + people) $50 per person for 1 hour.
30 minute Private Lesson: $65.  Available to current clients who own or lease their own horse. Clients must independently tack and warm-up their horse prior to the lesson and independently untack their horse after the lesson. This is an intense 30 minute lesson meant to allow student and trainer to work one-on-one on a particular skill or issue.
We encourage families to start with a tour and then schedule a one hour private evaluation lesson ($80) so that we can get a good feel for where the rider is and a good group in which they would fit.
*All beginning riders must start with private lessons until the instructor deems a group lesson appropriate. We are a teaching and training facility. Your lesson, especially at the beginning, will include time spent catching your horse, grooming, learning about tack and tacking your horse. Then you will spend time riding, untacking and grooming. If you are interested in a single trail or leisure ride, please allow us to recommend another facility.