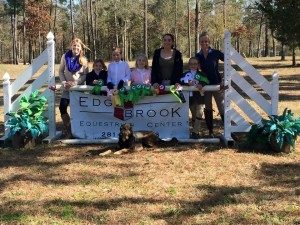 Edgebrook's riders have the option to join our Show Team. Membership isn't necessary to show, but joining has its benefits!
Open enrollment for Show Team is twice a year in January and July. The cost is $225. By joining show team you are committing to attending 3 of the shows during that 6 month period. Your show teams fees ($225) are basically an up-front payment of your discounted trainer fees for 3 local schooling shows (e.g. a MidSouth show at Edgebrook).
Benefits of show team include:
discounted trainer fees
discounted lesson horse lease fee
the comradeship with other team members that comes from group training, goal setting, and service
It is VERY important to read over our Show Team Policies and Procedures. There is a ton of critical information in this document about showing in general and our expectations. Also, please review our Fee Schedule to familiarize yourself with the costs associated with showing.