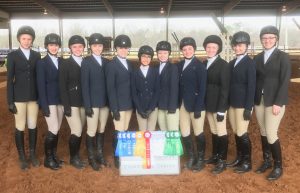 Interscholastic Equestrian Association (IEA) is the largest youth equestrian organization in the United States. IEA offers middle and high school students a unique competition format similar to the format utilized by college equestrians. Riders are not required to own their own horses or tack; instead, the host team arranges for the horses and equipment. Riders do not know their mounts until shortly before their classes, allowing their scores to be based upon horsemanship and equitation. More information can be found at www.RideIEA.org.
Edgebrook's first IEA team was in 2016. Since then, we have had both middle school and high school riders advance to Regionals, Zones, and, in 2018, our first rider advanced to Nationals!
You do not have to ride at Edgebrook to be on our IEA team! We do require that you attend a monthly IEA practice with the team (at Edgebrook) and that you are in a regular lesson program at your own barn.
If you would like more information about joining our team, please complete this form or email us.